User registration form
Feedback search
---
---
RINGS is a web resource providing algorithmic and data mining tools to aid glycobiology research.
Many of the tools have been published in the literature;
RINGS provides free access to these methods for academic research.

When publishing papers, books, etc. using RINGS, please cite the following paper:
Akune Y, Hosoda M, Kaiya S, Shinmachi D, Aoki-Kinoshita KF. The RINGS resource for glycome informatics analysis and data mining on the Web. OMICS. 14(4):475-86, 2010.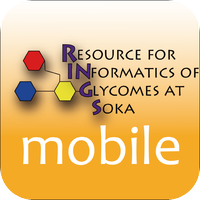 mobileRINGS iPhone app now available from the App Store!

This site has been supported by Grant-In-Aid for Young Scientists (A), KAKENHI (20016025), the Japan Society for the Promotion of Science (JSPS) and the Ministry of Education, Culture, Sports, Science and Technology (MEXT).
---
Last modified: April 3, 2016 You are visitor number
!!